Do you suffer from seasonal allergies, asthma or sinusitis?
Every spring, allergy sufferers make the typical rounds with prescription medications, antihistamines and decongestants. Since none of these offer long-lasting relief and the accompanying drowsiness can be as bad as the symptoms themselves, an increasing number of patients are turning to complementary medicine, such as Halotherapy. Dry Salt therapy absorbs the pollen and allergens and enhances the respiratory system's natural cleansing process. These treatments will also breakdown mucus in the nasal passage and airways and decreases bacteria and inflammation.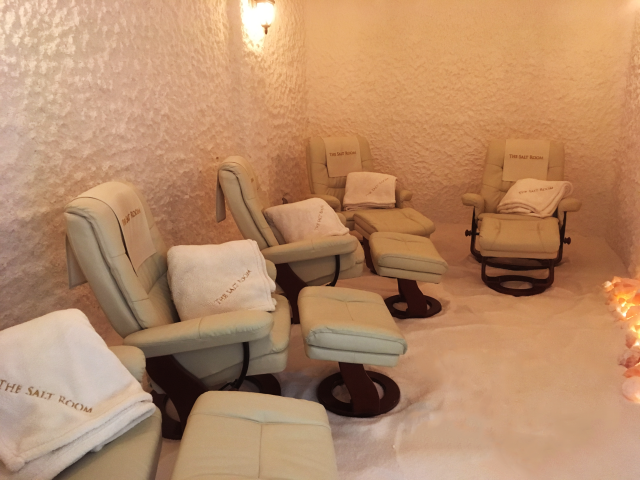 Lung Wellness, Skin Wellness, Overall Wellness…
Salt Therapy, also known as Halotherapy, is a natural way to treat respiratory and skin ailments. The thousands of pounds of Dead Sea salt on our walls and floor make the salt room a natural anti-bacterial, anti-fungal and anti-pathogenic environment. This promotes mucus clearance, acts as an anti-inflammatory and fights against harmful germs in the lungs.
Our Halogenerator crushes pharmaceutical grade pure sodium chloride (salt) and disperses it as a dry salt aerosol into the salt room.  Clients need only sit back  and relax for 30 minutes and enjoy the tranquil setting, which some have described as being similar to a quiet day by the ocean.
Currently by appointment only:
To book your time/package click below:

Book Now
Call: 902-428-SALT (7258) to arrange your session date/time.
We have moved to 650 Washmill Lake Drive! See contact us for more info…
Reminder:
Many of our clients have varying degrees of environmental sensitivities and because of this we are a scent free facility. We recognize this and we ask that people please refrain from wearing scented products during their appointments to make the experience more enjoyable for everyone.